Hello again
Here I am with another inspiration card for the current Facebook (and blog) challenge this month.
The theme this month is Fall Colours, so think of all those beautiful autumnal colours that appear around September/October and make those the focal colours on your project.
So, for week 3 the Design Team were tasked with "Thinking Pink" in recognition of Breast Cancer. Remember to check your two best friends ladies, they are precious as is life and you can never be too careful.
Now, I have to be honest here, I really don't like using Pink at all!!
It just never seems to work for me.
Doesn't look right! Do you know what I mean?
Anyhoo, I pulled up my big girl pants and out came all my pink markers.
Tried them all until I was (reasonably) happy with my choices and off I went.
For this project I have used the beautiful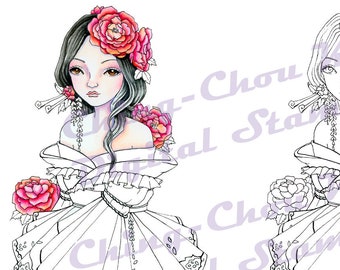 I mean, she is simply stunning isn't she??
Just look at those soulful eyes.
So here is the card I made.
(Remember I don't like pink, so be nice) 😊😊
There are four different pinks on her dress and although I don't like using pink, I am pretty happy with how this turned out.
She is coloured using my Copic Markers.
The background paper is from Lili of The Valley and Nitwits from a pad called Country Meadow. Sadly I don't think it is available any more. Shame, because they are such lovely quality paper pads. Hey ho.
So, I do hope you will find the time to enter the Facebook challenge and/or the blog challenge. Remember they both have the same theme so you can enter into both.
Well, I will see you again next week with my last card for this month.
TTFN
Challenges.